Coconut macaroons with pistachio and seeds
Makes 10 pcs.
Prep time 30 min.
Difficulty Easy
Ingredients
125 g coconut flour
125 g sugar
1 egg
Half a glass of Nicolas Vahé Curd / pistachio
3 tbsp Nicolas Vahé Salad topping / mixed seeds
1 tsp vanilla sugar
1 pinch of Nicolas Vahé French sea salt
100 g Nicolas Vahé Dark chocolate / liquorice and chili
Preparation
Pre-heat the oven to 180°.
Mix all ingredients in a bowl.
Put a sheet of baking paper on a baking tray and form 10 coconut macaroons. Bake for 12-15 minutes.
In the meantime, melt the dark chocolate over a water bath.
Take out the coconut macaroons and let them cool off but save the baking tray and paper.
Once the macaroons have cooled off, dip the bottoms in the melted chocolate. Place the macaroons on the baking tray and let the chocolate cool off completely.
SALAD TOPPING – MIXED SEEDS, 170 G.
DARK CHOCOLATE – LICORICE & CHILI, 50 G.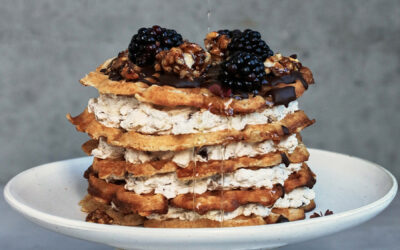 Makes: 1 cake for 6-8 people Prep time: 120 minutes Ingredients 1 bag of Nicolas Vahé Waffle & Pancake Mix 50 g melted butter 50 g Nicolas Vahé Olive Oil / Walnut 3 eggs 300 ml milk 125 g...
read more