Confit potatoes with rosemary oil
Serving 4
1 kg. small potatoes

8 cloves of garlic

8-10 sprigs of rosemary

10 cl. olive oil with rosemary

French Sea salt

Black pepper

Preparation

Preheat your oven to 180°C
Wash the potatoes and dry them with a clean cloth.

If the potatoes are larger than "bite-size", cut them in half and mix them with the rest of the ingrediets in a large bowl.

Place on a baking tray lined with parchment paper.
Sprinkle with finely chopped rosemary.
Bake for 40 minutes until golden brown and soft in the middle. Remeber to turn them regularly.

Confit potatoes is an excellent side dish for all meats, but is also nice in a salad or as a snack with dip.
ORGANIC OLIVE OIL WITH ROSEMARY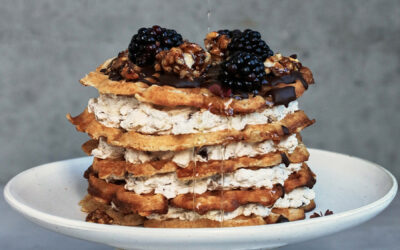 Makes: 1 cake for 6-8 people Prep time: 120 minutes Ingredients 1 bag of Nicolas Vahé Waffle & Pancake Mix 50 g melted butter 50 g Nicolas Vahé Olive Oil / Walnut 3 eggs 300 ml milk 125 g...
read more