Creamy spinach tagliatelle
Serves 4 people
Prep time 30 minutes
Difficulty Medium
Ingredients
1 pack Nicolas Vahé Pasta / spinach tagliatelle
2 tbsp Nicolas Vahé Olive oil
1 onion, finely chopped
1 glove of garlic, finely chopped
170 g chorizo, sliced in cubes
150 g brussels sprout
250 ml cream
65 g baby spinach
Nicolas Vahé Salt & Pepper / Everyday mix, for seasoning
Preparation
Boil the pasta following the instructions on the pack. Drain and leave the pasta to cool.
Heat a frying pan with olive oil and sauté onions and garlic for 2 minutes until soft and translucent. Add chorizo and russels sprout and sauté for 5 minutes – the ingredients should now start to take colour. Lower the heat and cook for another 5 minutes. Add cream, and leave the dish to simmer for a couple of minutes on a medium heat. Seson with salt and pepper.
Serve tossed with the cooked tagliatelle.
Tagliatelle – Durum Wheat Semolina & Spinach
Salt and pepper, Everyday Mix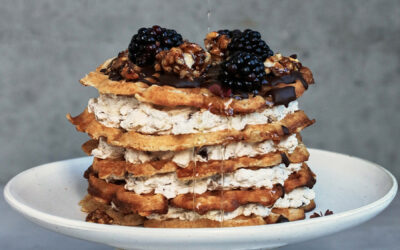 Makes: 1 cake for 6-8 people Prep time: 120 minutes Ingredients 1 bag of Nicolas Vahé Waffle & Pancake Mix 50 g melted butter 50 g Nicolas Vahé Olive Oil / Walnut 3 eggs 300 ml milk 125 g...
read more