Creamy tomato soup with crunchy baguettes
Serves 4 people
Prep time 45 minutes
Proving 24 hours
Difficulty Medium
Ingredients
1 pack Nicolas Vahé bread mix / crusty morning
25 g butter
6 tbsp Nicolas Vahé Olive oil
1 red onion, roughly chopped
1 clove of garlic, finely chopped
150 g brown mushrooms, cut in halves
2 tsp salt
1 tsp sugar
1 tbsp Nicolas Vahé Spices / vegetables
2 bottles Nicolas Vahé Tomato sauce / olives & capers
1 l vegetable stock
1 handful fresh thyme, for garnish
Nicolas Vahé Olive oil
Preparation 
Mix, prove and bake the bread mix following the instructions on the pack. Shape the dough into baguettes instead of a loaf. Heat a saucepan with olive oil and sauté red onions, garlic, mushrooms with salt, sugar and spices for vegetables for about 2 minutes. Add tomato sauce and vegetable stock and boil on a low heat for about 20 minutes with the lid on.
Blend the soup until smooth using either a stick blender or a regular blender.
Serve the soup with a splash of olive oil, fresh thyme and with crunchy baguettes on side.
Organic Breadmix, Crusty Morning
Tomato Sauce – Olives & Capers
Spices, Oregano, basil & marjoram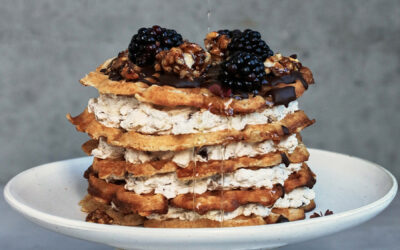 Makes: 1 cake for 6-8 people Prep time: 120 minutes Ingredients 1 bag of Nicolas Vahé Waffle & Pancake Mix 50 g melted butter 50 g Nicolas Vahé Olive Oil / Walnut 3 eggs 300 ml milk 125 g...
read more