Crisp potatoes with pickled vegetables
Prep time
40 minutes
Serves
2-4 people
Ingredients
400 g small potatoes
2 tbsp salt
2 fresh rosemary sprigs
2 tbsp neutral-flavoured oil
1 glass of Nicolas Vahé Pickled Vegetables
Preparation
Boil the potatoes for 5 minutes in lightly salted water.
Toss with oil and salt, place on a baking sheet and roast in a pre-heated oven for 30 minutes at 220 °C until crisp.
Serve with pickled vegetables.
Pickles savoury gourmet sauce, 150 g.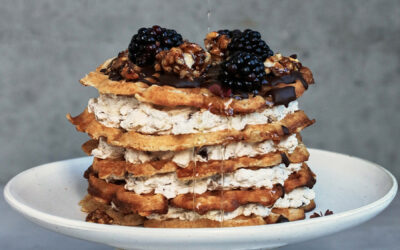 Makes: 1 cake for 6-8 people Prep time: 120 minutes Ingredients 1 bag of Nicolas Vahé Waffle & Pancake Mix 50 g melted butter 50 g Nicolas Vahé Olive Oil / Walnut 3 eggs 300 ml milk 125 g...
read more