Crispy cod fish fingers with mayo and watercress
Prep time
25 minutes
Serves
2 people
Ingredients
200 g cod
100 g panko flour
2 tbsp flour
1 egg
Salt and pepper
1 glass of Nicolas Vahé Pickles, Savoury Gourmet Sauce
2 tbsp neutral mayonnaise
Watercress
Preparation
Cut the cod into finger-sized sticks. Coat with flour, dip into the beaten egg and lastly panko flour. Add salt and pepper to taste.
Fry the fish in oil at 180 °C until golden and crisp.
Mix the pickles with mayonnaise. Arrange the fish fingers on a plate with mayo and garnished with watercress.
Pickles savoury gourmet sauce, 150 g.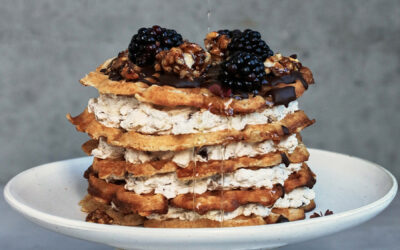 Makes: 1 cake for 6-8 people Prep time: 120 minutes Ingredients 1 bag of Nicolas Vahé Waffle & Pancake Mix 50 g melted butter 50 g Nicolas Vahé Olive Oil / Walnut 3 eggs 300 ml milk 125 g...
read more