Prep time 45 minutes + 2 hours to rise
Makes 1 loaf
Difficulty Easy
Ingredients
400 ml cold water
150 ml butter milk
100 ml Nicolas Vahé Beer / Brown Ale
25 g fresh yeast
15 g salt
1 bag of Nicolas Vahé Organic Emmer, rinsed
1 glass of Nicolas Vahé Salad Topping / Mixed seeds
1 bag of Nicolas Vahé Bread mix / Rustic Dawn
2 tbsp Nicolas Vahé rapeseed oil
Preparation
In a bowl, mix water, buttermilk, and beer. Dissolve the yeast in the mix and add salt, emmer, seeds and 450 g of the bread mix.
Knead it thoroughly for about 10 minutes.
Smear oil around the inside of a tin and add the dough. Smooth the surface of the dough with a wet spoon.
Cover with a tea towel and let it rise somewhere warm.
Pre-heat the oven to 190° and bake for 25 minutes.
Remove the bread from the tin and bake for a further 5 minutes.
Let it cool before slicing and serving it.
ORGANIC PEARLED EMMER, 350 G.
SALAD TOPPING – MIXED SEEDS, 170 G.
ORGANIC BREADMIX, RUSTIC DAWN, 600 G.
RAPESEEDS OIL, COLD PRESSED, 70 CL.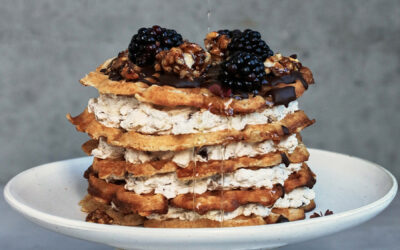 Makes: 1 cake for 6-8 people Prep time: 120 minutes Ingredients 1 bag of Nicolas Vahé Waffle & Pancake Mix 50 g melted butter 50 g Nicolas Vahé Olive Oil / Walnut 3 eggs 300 ml milk 125 g...
read more