Fish with green peppercorns and capers
Serving 4
800 gr. monkfish (fillet or cheeks)

5-10 gr. whole green peppercorn

30 gr. capers

4 pcs. shallot

15 cl. chicken broth

30 gr. butter

50 gr. crème fraiche 38%

French Sea salt


Preparation

In a saucepan, melt the butter over low heat. Peel and thinly slice the shallots and sweat them in the pan, still over low heat, avoiding browning.

Add the 15 cl of chicken broth, the green peppercorns and the capers.
Mix well and simmer over low heat for 10 minutes; without covering.
Bring sauce to a light boil and reduce by half, while monitoring and stirring it constantly. Then finish preparing the sauce by slowly incorporating the crème fraîche while stirring. Add monkfish to a pan, and fry for 3 minutes on each side.
Add the monkfish to the sauce and turn them over to soak them well.
Simmer over medium heat for one minute.
Season with salt if necessary.

Serve immediately, bringing the casserole to the table; serve with some steamed potatoes or plain basmati rice.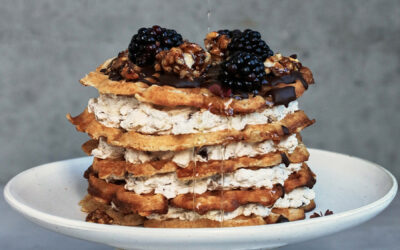 Makes: 1 cake for 6-8 people Prep time: 120 minutes Ingredients 1 bag of Nicolas Vahé Waffle & Pancake Mix 50 g melted butter 50 g Nicolas Vahé Olive Oil / Walnut 3 eggs 300 ml milk 125 g...
read more