Fish'n'chips with gourmet pickles & sweet potato fries
Serves 2 people
Prep time 50 minutes
Ingredients
400 g cod loins
1 egg
1 dl panko breadcrumbs
4 tbsp flour
4 dl neutral oil
4 sweet potatoes
2 tbsp oil – lemon
2 tsp spices – BBQ
Salt & pepper
1lemon
3 tbsp mayo – garlic
3 tbsp pickles
Preparation
Wash the potatoes and cut them into wedges. Toss them with lemon oil, BBQ spice, salt and pepper.
Bake the potatoes in a pre-heated oven at 200°C until golden and crunchy – roughly 40 minutes.
Cut the cod loins into sticks and season with salt and pepper. Whip the egg and dip the cod in flour, egg and lastly panko breadcrumbs. Heat the oil to 180°C and fry the fish for about 3 minutes until the sticks are golden.
Slice the lemon in half and grill it with the cut side down (you can also roast it on a pan).
Mix mayo with pickles and serve it as dip for your fish'n'chips.
Rapeseeds Oil, Cold Pressed
Spices, Smoked Chilli, pepper & parsley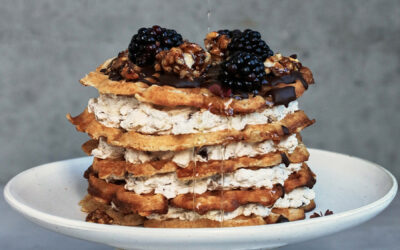 Makes: 1 cake for 6-8 people Prep time: 120 minutes Ingredients 1 bag of Nicolas Vahé Waffle & Pancake Mix 50 g melted butter 50 g Nicolas Vahé Olive Oil / Walnut 3 eggs 300 ml milk 125 g...
read more