Focaccia with olive and rosemary
Prep time 45 min. + 1 hour to rise
Makes 1 focaccia
Difficulty Easy
Ingredients
600 ml lukewarm water
20 g fresh yeast
1 tsp salt
3 tbsp Nicolas Vahé Olive Oil / Herbes Provence
1 bag of Nicolas Vahé Bread Mix / Crusty Morning
1 glass of Nicolas Vahé Olives / Mix
1 handful fresh rosemary
Preparation
In a bowl, add water and dissolve the yeast in it.
Add salt, 1 tbsp olive oil and gradually add in the bread mix. The dough should be sticky.
Cover the bowl with a tea towel and leave the dough to rise for an hour.
Transfer it to a baking tray (22×32 cm) with baking paper.
Pre-heat the oven to 240°.
Poke some small holes in the dough with your fingers, drizzle with the remaining olive oil and top with olives, rosemary, and salt.
Bake for 15-20 min.
Leave it to cool and serve warm.  
OLIVE OIL, HERBS DE PROVENCE, 25 CL.
ORGANIC BREADMIX, CRUSTY MORNING, 600 G.
MIXED OLIVES, IN FLAVOURED OIL, 190 G.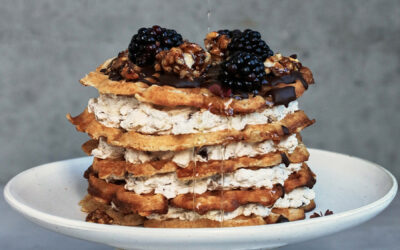 Makes: 1 cake for 6-8 people Prep time: 120 minutes Ingredients 1 bag of Nicolas Vahé Waffle & Pancake Mix 50 g melted butter 50 g Nicolas Vahé Olive Oil / Walnut 3 eggs 300 ml milk 125 g...
read more