Gourmet hot dog with summer truffle & pickled gourmet sauce
Serves 2 persons
Prep time 45 minutes (do not forget to let the bread dough rise overnight before you begin)
Ingredients
2-4 spicy sausages
1 bread mix – Rustic Dawn
200 g butter
3 tbsp mayo – garlic
3 tbsp pickles
1 handful of pea shoots
2 tsp summer truffle
2 tsp truffle mustard
2 tbsp onion confit
How to
Cut the butter into lumps and add the dough. Prepare the dough as stated on the package. Form the dough into hot dog buns and place them closely together on the baking tray.
Grill the sausages.
Put together the hot dogs. Pea shoots at the bottom, then onion confit, sausage, pickles, mustard, mayo, and summer truffle.
Organic Breadmix, Rustic Dawn
Pickles savoury gourmet sauce
Confit, Onion & balsamic vinegar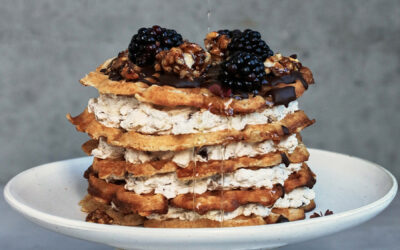 Makes: 1 cake for 6-8 people Prep time: 120 minutes Ingredients 1 bag of Nicolas Vahé Waffle & Pancake Mix 50 g melted butter 50 g Nicolas Vahé Olive Oil / Walnut 3 eggs 300 ml milk 125 g...
read more