Grilled artichoke with pesto
Prep time 30 minutes Serves 4 people Ingredients 2 whole artichokes cut into quarters 1 glass of Nicolas Vahé Pesto / Rocket & Almond 50 g butter 1 glass of Nicolas Vahé Capers / Sea Salt, rinsed 25 g grated parmesan 4 slices of Nicolas Vahé Bruschetta / Garlic, crushed into large chunks Preparation Boil the artichokes in lightly salted water for 20 minutes over open fire. Drain the artichokes, add pesto and butter and wrap them in aluminium foil. Put the packages into the fire and leave them for about 10 to 15 minutes until the artichokes are tender. Unwrap the artichokes and top with capers, parmesan and crushed bruschetta. Garnish with leftover pesto and fresh herbs (optional).
PESTO, ROCKET & ALMOND, 135 G.
CAPERS, WITH SEA SALT, 100 G.
BRUSCHETTA, GARLIC, 150 G.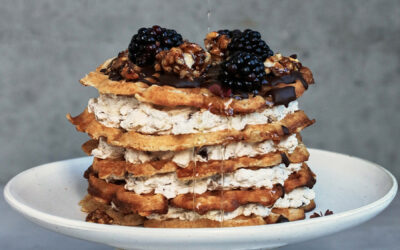 Makes: 1 cake for 6-8 people Prep time: 120 minutes Ingredients 1 bag of Nicolas Vahé Waffle & Pancake Mix 50 g melted butter 50 g Nicolas Vahé Olive Oil / Walnut 3 eggs 300 ml milk 125 g...
read more