Prep time 20 minutes
Serves 4 people
Difficulty Easy 
Ingredients
3 tbsp. Nicolas Vahé Olive Oil / Garlic
1 tbsp. Nicolas Vahé Spices / Chicken
Salt and pepper
1 cauliflower 
Preparation
Mix olive oil, spices, salt and pepper well together. Cut the cauliflower in 3-4 slices. Spread marinade on the cauliflower and grill for 2-3 minutes on each side on a warm grill. Serve small grilled cauliflower bouquets in a summer salad.
Olive oil, Garlic, 25 cl.
Spices, Paprika, turmic & cumin, 2.12 oz (60g)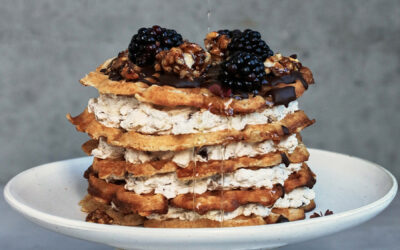 Makes: 1 cake for 6-8 people Prep time: 120 minutes Ingredients 1 bag of Nicolas Vahé Waffle & Pancake Mix 50 g melted butter 50 g Nicolas Vahé Olive Oil / Walnut 3 eggs 300 ml milk 125 g...
read more