Serves 4 people
Cooks in 30 minutes
Difficulty Medium
Ingredients
Whole fish, such as redfish – approx. 300-400 g of fish per person
Nicolas Vahé French sea salt
Nicolas Vahé Pepper / lemon peel
Nicolas Vahé Spices / fish
1 lemon, organic
2 tbsp butter
Chopped herbs
Preparation
Rinse the fish thoroughly under cold water and dry with kitchen roll. Sprinkle the fish with Nicolas Vahé sea salt and lemon pepper. Put a few slices of lemon and 2 tbsp of butter into the cavity of the fish. Stuff the fish with fresh herbs. Use a fish basket, meat pin or thread to keep the herbs inside the fish.
Cook the fish on a hot grill until the meat next to the backbone has turned white. You can test the meat by slipping a small knife into the back of the fish. Don't move the fish around too much and let it cook for at least 5 minutes on each side before turning. This will prevent the skin from breaking. Turn the fish a couple of times, until the meat is tender. Remove the meat from the bones by slitting the skin from nape to tail along one side of the backbone. Don't eat the skin if it is has become too charred.
Spices, Ginger, garlic & coriander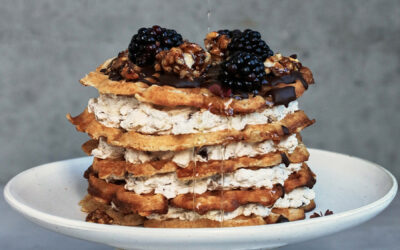 Makes: 1 cake for 6-8 people Prep time: 120 minutes Ingredients 1 bag of Nicolas Vahé Waffle & Pancake Mix 50 g melted butter 50 g Nicolas Vahé Olive Oil / Walnut 3 eggs 300 ml milk 125 g...
read more