Prep time 20 minutes (1-4 hours marinating time)
Serves 4 people
Difficulty Easy 
Ingredients
1,5 dl natural yoghurt
1 tbsp. Nicolas Vahé Dry Rub / Smoked Barbecue Mix
2 tbsp. Nicolas Vahé Olive Oil / Chili
1 tsp. honey
2 rib-eye steaks, 200 g each
8 small Nicolas Vahé Bamboo Skewers
Preparation
Mix yoghurt, Dry Rub, olive oil and honey well together. Dry off the rib-eye steaks and place in a dish. Spread marinade on the steaks and cover with saran wrap. Let the steaks marinate in the refrigerator for at least 1 hours, preferably 3-4 hours. Remove the steaks from the marinade and drip off some of the remaining. Discard the rest of the marinade. Grill the steaks a few minutes on each side on a warm grill. Rib-eyes can be served in small pieces on Bamboo Skewers for tacos.
Dry Rub, Smoked Barbecue Mix, 150 g.
Olive oil, Chilli, 25 cl.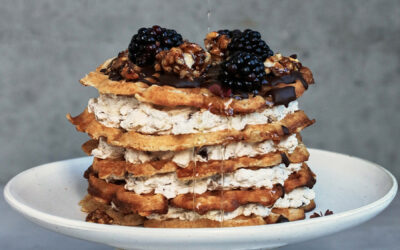 Makes: 1 cake for 6-8 people Prep time: 120 minutes Ingredients 1 bag of Nicolas Vahé Waffle & Pancake Mix 50 g melted butter 50 g Nicolas Vahé Olive Oil / Walnut 3 eggs 300 ml milk 125 g...
read more