Serves 4 people
Prep time 20 minutes + 12 hours of rise time
Ingredients
1 bag of Nicolas Vahé Bread Mix, Crusty Morning
1 glass of Nicolas Vahé Pesto, Basil & Parmesan
1 glass of Nicolas Vahé Mayonnaise, Tarragon
1 handful of fresh frisée salad
8-12 slices of quality salami
4-8 slices of good cheese
1 handful of rocket
Preparation
Bake the bread following the instructions on the package.
Slice the bread into 8 pieces. Drizzle with olive oil and heat them on a frying pan.
On 4 of the slices, add pesto to one side, and on the other 4, add mayonnaise.
Make a sandwich with salad, salami, cheese and rockets.
ORGANIC BREADMIX, CRUSTY MORNING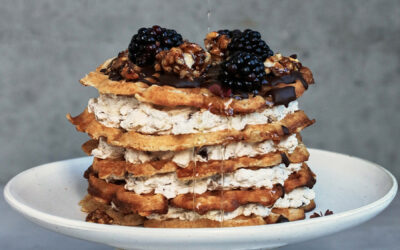 Makes: 1 cake for 6-8 people Prep time: 120 minutes Ingredients 1 bag of Nicolas Vahé Waffle & Pancake Mix 50 g melted butter 50 g Nicolas Vahé Olive Oil / Walnut 3 eggs 300 ml milk 125 g...
read more