Hummus with beetroot, pink pepper and nuts
Prep time 30 minutes
Serves 4-6 people
Ingredients
1 boiled beetroot
1 can of chickpeas
80 g salted peanuts
1 tbsp lemon juice
2 tbsp Nicolas Vahé Olive Oil, Lemon
6 fresh coriander leaves
Nicolas Vahé French Sea Salt
Nicolas Vahé Pepper, The Mixed Blend
Preparation
Add all ingredients to a blender and blend. Save 1 tbsp nuts and 1 tbsp olive oil for topping. Add salt and pepper to taste.
Chop the nuts and arrange the hummus on a plate, garnished with oil, nuts ad coriander.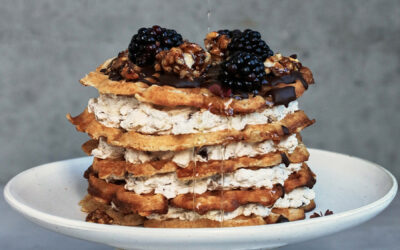 Makes: 1 cake for 6-8 people Prep time: 120 minutes Ingredients 1 bag of Nicolas Vahé Waffle & Pancake Mix 50 g melted butter 50 g Nicolas Vahé Olive Oil / Walnut 3 eggs 300 ml milk 125 g...
read more