Prep time
10 minutes
Serves
2 people
Ingredients
4 tsp brown sugar
40 ml Nicolas Vahé Syrup, Irish Rum
400 ml hot, strong coffee
200 ml whipped cream
1 pack of Nicolas Vahé Milk Chocolate – Caramel, Salt & Almonds, coarsely chopped
Preparation
Pour the brown sugar and syrup into two mugs.
Top with coffee and stir until the sugar has been dissolved.
Add whipped cream and top with chocolate.
Milk Chocolate – Caramel, Salt & Almonds, 50 g.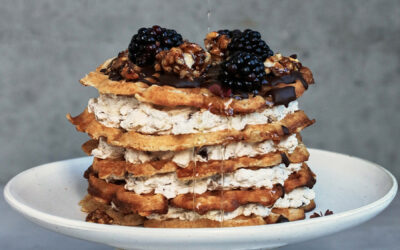 Makes: 1 cake for 6-8 people Prep time: 120 minutes Ingredients 1 bag of Nicolas Vahé Waffle & Pancake Mix 50 g melted butter 50 g Nicolas Vahé Olive Oil / Walnut 3 eggs 300 ml milk 125 g...
read more