Serves 4 people
Prep time 10 minutes
Ingredients
100 g. Nicolas Vahé marinade / Tomato & Spices
8 pcs. Nicolas Vahé Bruschetta / Garlic
40 g. Nicolas Vahé Roasted Cashew Nuts / Truffle
300 g. freshly peeled shrimps
Preparation
Drain water from shrimps and put them in a bowl. Add marinade and stir. Arrange shrimps on bruschetta and top with coarsely chopped cashew nuts. Garnish with fresh thyme.
MARINADE, TOMATO & SPICES, 200 G.
BRUSCHETTA, GARLIC, 150 G.
ROASTED CASHEW NUTS WITH TRUFFLE FLAVOUR, 75 G.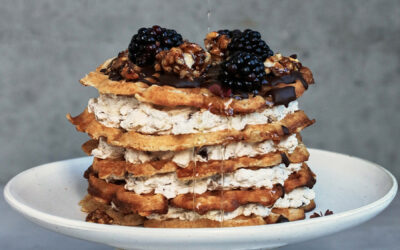 Makes: 1 cake for 6-8 people Prep time: 120 minutes Ingredients 1 bag of Nicolas Vahé Waffle & Pancake Mix 50 g melted butter 50 g Nicolas Vahé Olive Oil / Walnut 3 eggs 300 ml milk 125 g...
read more