Mediterranean salad with lentil pasta
Serves 4 people
Prep time 30 minutes
Difficulty Medium
Ingredients
2 packs Nicolas Vahé Pasta / lentil
500 g cherry tomatoes in different colours
1 clove of garlic, pressed
2 tbsp capers
75 ml Nicolas Vahé Dressing / Tomato
1 handful broad-leaved parsley, roughly chopped
1 handful kale, finely chopped
1 apple, sliced
1 ball of fresh mozzarella
½ bottle Nicolas Vahé Salad topping / mixed seeds
Salt & pepper for seasoning
Preparation
Boil the pasta following the instructions on the pack. Drain and leave the pasta to cool.
Cut the cherry tomatoes in halves and place them into a large salad bowl with pressed garlic, capers and dressing. Toss together well. Add the lentil pasta, broad-leaved parsley and kale to the bowl and mix.
Top the pasta salad with apples slices, fresh mozzarella and a handful of salad topping. Season with salt and pepper.
Pasta fusilli, red lentils
Salad Topping – Mixed Seeds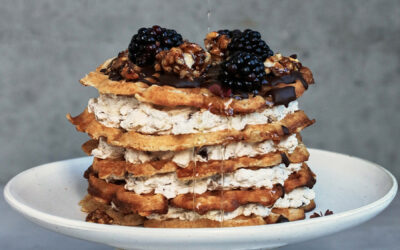 Makes: 1 cake for 6-8 people Prep time: 120 minutes Ingredients 1 bag of Nicolas Vahé Waffle & Pancake Mix 50 g melted butter 50 g Nicolas Vahé Olive Oil / Walnut 3 eggs 300 ml milk 125 g...
read more