Serves 30 pcs. small squares
Prep time 30 min.
Ingredients
1 bag of Nicolas Vahé Granola, Hazelnuts, date & almond
1 glass of Nicolas Vahé Honey, Walnut
1 pack of Nicolas Vahé Dark Chocolate, Licorice & Chili
Preparation
Preheat the oven to 110°.
Mix all ingredients in a bowl.
Bake on a baking tray with baking paper for about 40 minutes.
Let it cool off for a bit and slice into squares.
Store in an airtight container.
GRANOLA, HAZELNUT, DATE & ALMOND
DARK CHOCOLATE, LICORICE & CHILI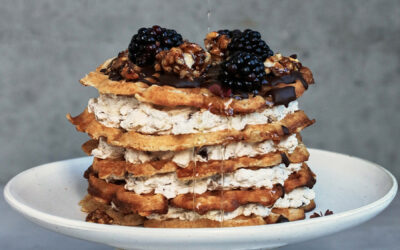 Makes: 1 cake for 6-8 people Prep time: 120 minutes Ingredients 1 bag of Nicolas Vahé Waffle & Pancake Mix 50 g melted butter 50 g Nicolas Vahé Olive Oil / Walnut 3 eggs 300 ml milk 125 g...
read more