Prep time 40 minutes
Serves 2 people
Ingredients
6 x Nicolas Vahé Bruschetta, Oregano
1 soft-boiled egg
1 handful fresh prawns
1 tbsp Nicola Vahé Marinade, Coconut & Mango
1 tbsp fresh coriander
1 avocado
1 handful chopped red pointed cabbage
1 tbsp sprouts
4 Nicolas Vahé Capers, with stalks
1 tbsp Nicolas Vahé Confit, Onion & balsamic vinegar
1 tsp Nicolas Vahé Smoked Almonds
2 boiled potatoes
1 tbsp Nicolas Vahé Mayonnaise, Garlic
1 sliced shallot
1 tbsp flour
300 ml oil
Chives
Pickled red onions
Preparation
Bruschetta with egg and prawns: Spread marinade onto the bruschetta and add sliced egg, prawns, coriander, mayo, pepper and sprouts.
Bruschetta with avocado: Layer with cabbage, onion confit, sliced avocado, capers, chopped almonds and sprouts.
Bruschetta with potato: Coat the shallot in flour and fry in oil at 180°C until golden. Slice the potatoes and add to the bruschetta. Garnish with mayo, shallots, pickled onions and chives.
Bruschetta, Oregano, 150 g.
Marinade, Coconut & Mango, 200 g.
Capers, with stalks, 200 g.
Confit, Onion & balsamic vinegar, 140 g.
Nut Mix – Smoked Almonds, 75 g.
Mayonnaise, Garlic, 135 g.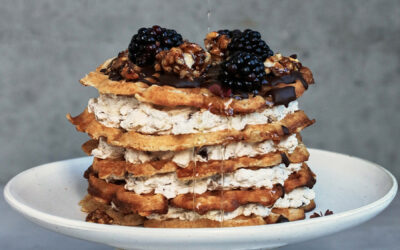 Makes: 1 cake for 6-8 people Prep time: 120 minutes Ingredients 1 bag of Nicolas Vahé Waffle & Pancake Mix 50 g melted butter 50 g Nicolas Vahé Olive Oil / Walnut 3 eggs 300 ml milk 125 g...
read more