Serves 4 people
Prep time 90 minutes
Difficulty Medium
Ingredients
2 tbsp Nicolas Vahé Olive oil
25 g butter
500 g minced beef
1 red onions
2 cloves of garlic
2 tsp Nicolas Vahé Red wine vinegar / aceto balsamico di Modena
3 tbsp Nicolas Vahé Ketchup / San Marzano tomato
2 jar Nicolas Vahé Tomato sauce / ricotta
2 tbsp Nicolas Vahé Spices / meat
2 tbsp Nicolas Vahé Salt & Pepper / everyday mix
1 pack Nicolas Vahé Tagliatelle / durum wheat semolina & spinach
75 g parmesan cheese, freshly grated or fresh mozzarella
1 handful fresh basil
Preparation
Heat olive oil and butter in a casserole pan on a high heat and roast the mince until golden-brown. Remove the meat from the pan and set aside. Peel and finely chop red onions and garlic. Using the same casserole pan, sauté red onions and garlic on a medium heat for about 2 minutes. Add meat, red wine vinegar, ketchup, tomato sauce and spices for meat. Cover with a lid, reduce the heat and leave to simmer for approximately 60 minutes. If you're tight for time, you can reduce the simmering time to 20 minutes. However, when you allow the dish to simmer, you concentrate its flavours. Season with salt and pepper.
Boil the tagliatelle following the instructions on the pack. Serve in soup plates, top with bolognese, freshly grated parmesan cheese or mozzarella and fresh basil.
Ketchup, San Marzano Tomatoes
Tagliatelle – Durum Wheat Semolina & Spinach
Salt and pepper, Everyday Mix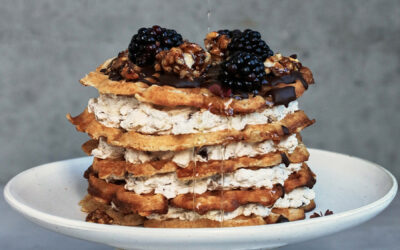 Makes: 1 cake for 6-8 people Prep time: 120 minutes Ingredients 1 bag of Nicolas Vahé Waffle & Pancake Mix 50 g melted butter 50 g Nicolas Vahé Olive Oil / Walnut 3 eggs 300 ml milk 125 g...
read more