Pasta penne Arrabiata with rosemary oil
Serving 4
1 bag Pasta penne

500 gr. small cherry tomatoes cut in halves

1 jar Nicolas Vahé Arrabiata

5 cl. olive oil with rosemary

1 onion finely chopped

1 clove of garlic finely chopped

Fresh parmesan

French Sea salt

Black pepper

Preparation

In a frying pan, heat the rosemary oil over medium heat and sweat the finely chopped onion and garlic, color them lightly. Add the cherry tomatoes and the jar of Arrabiata.

Cook the pasta in salted boiling water untill "al dente".
Drain the pasta and add it to the sauce. (Add some of the coocking water if the pasta becomes to dry) Cook the pasta with the sauce for 2 minutes.
Serve the pasta immediately with grated parmesan and freshly crushed black pepper.
PENNE, ORGANIC DURUM WHEAT SEMOLINA
ORGANIC OLIVE OIL WITH ROSEMARY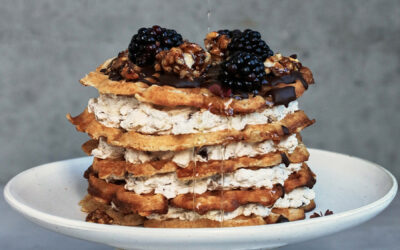 Makes: 1 cake for 6-8 people Prep time: 120 minutes Ingredients 1 bag of Nicolas Vahé Waffle & Pancake Mix 50 g melted butter 50 g Nicolas Vahé Olive Oil / Walnut 3 eggs 300 ml milk 125 g...
read more