Ingredients
2 tbsp. Nicolas Vahé Vinegar / Cucumber
1 glass Nicolas Vahé Mayonnaise / Garlic
200 ml. Nicolas Vahé Ketchup
1,5 tbsp. Nicolas Vahé French Sea Salt
1 kg. small potatoes
Neutral cooking oil
Preparation
Cut potatoes into bite-size chunks and toss with sea salt and oil. Bake the potatoes in oven at 200° C until golden and crisp. Divide the potatoes into four portions. Mix ketchup with vinegar and spread over each portion. Add 1 tbsp. mayonnaise on top. Garnish with fresh parsley or pea shoots.
VINEGAR, VINEGAR – CUCUMBER, 200 ML.
MAYONNAISE, GARLIC, 135 G.
KETCHUP, SAN MARZANO TOMATOES, 500 ML.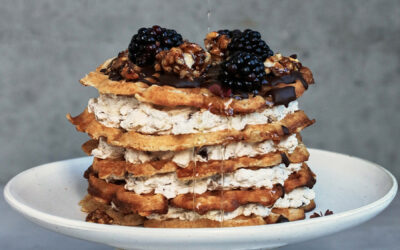 Makes: 1 cake for 6-8 people Prep time: 120 minutes Ingredients 1 bag of Nicolas Vahé Waffle & Pancake Mix 50 g melted butter 50 g Nicolas Vahé Olive Oil / Walnut 3 eggs 300 ml milk 125 g...
read more