Penne with truffle cream and fried mushrooms
Serves 4 people
Prep time 15-20 minutes
Difficulty Medium
Ingredients
1 pack Nicolas Vahé Penne
200 g brown mushrooms or oyster mushrooms
3 tbsp butter
Nicolas Vahé Pepper / Lemon
Nicolas Vahé Salt / French sea salt, for seasoning
2 jars Nicolas Vahé Truffle Cream / Ceps & white summer truffle
Kale for garnish
Preparation
Boil the penne pasta following the instructions on the pack.
Trim and slice the mushrooms while the pasta is boiling. Heat 3 table spoons of butter in a frying pan and fry the mushrooms until golden. Season with salt and pepper with lemon.
Toss the warm pasta with truffle cream and divide between 4 soup plates. Top each plate with fried mushrooms and pour over the remaining butter from the frying pan. Garnish with kale.
Penne – Organic Durum Wheat Semolina
Truffle Cream, Ceps & White Summer Truffle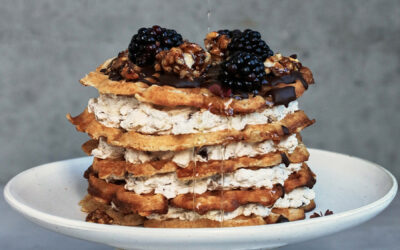 Makes: 1 cake for 6-8 people Prep time: 120 minutes Ingredients 1 bag of Nicolas Vahé Waffle & Pancake Mix 50 g melted butter 50 g Nicolas Vahé Olive Oil / Walnut 3 eggs 300 ml milk 125 g...
read more