Makes 10 pcs.
Prep time 60 minutes
Proving 12-24 hours
Difficulty Medium
Ingredients
1 pack Nicolas Vahé White bread mix / crusty morning
2 jars Nicolas Vahé Pesto / basil & lemon
1 jar Nicolas Vahé Mayonnaise / tarragon
Preparation
Prepare the dough following the instructions on the pack, however, using only 500 ml of water.
When risen, sprinkle some flour onto your kitchen table – this will avoid the dough from sticking to the table. Gently roll out the dough into a rectangle of about 30 x 40 cm. Spread an even layer of pesto over the dough. Fold the dough lengthwise and press the edges together. Cut the dough into strips, about 2 cm wide. Take one strip and twist it while gently stretching the dough. Grab one end of the twisted strip and coil it carefully around your index finger twice. Then, pull the end of the strip through the hole and turn the inside of the swirl out.
Place your swirls on 2 baking trays lined with baking paper and leave them to rise for about 40 minutes. Bake the swirls for 20 minutes in the oven at 190 C, without fan.
Enjoy the hot pesto swirls with mayonnaise.
Organic Breadmix, Crusty Morning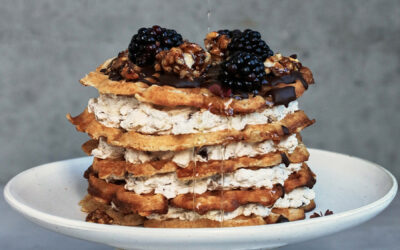 Makes: 1 cake for 6-8 people Prep time: 120 minutes Ingredients 1 bag of Nicolas Vahé Waffle & Pancake Mix 50 g melted butter 50 g Nicolas Vahé Olive Oil / Walnut 3 eggs 300 ml milk 125 g...
read more