Mascarpone mousse on oat biscuit, fragilité cake & marzipan cookie
Mascarpone mousse with a jam centre, served on crunchy oat biscuits.
Fragilité cake with marzipan and almonds, and mocha butter cream.
Marzipan cookies with salt caramel sugar, filled with pistachio or lemon curd.
Mascarpone mousse on oat biscuits
Prep time 3-4 hours
Servings 20-25 biscuits
Ingredients
6 egg yolks
100 g sugar
1.5 tsp vanilla sugar
4 gelatine sheets
250 g mascarpone
500 ml cream
½ a glass of Nicolas Vahé Jam, Red Bell Pepper, Raspberry & Chili
100 ml boiling water
90 g fine oats
100 g soft butter
45 g Nicolas Vahé Sugar, Salt Caramel
120 g wheat flour
½ tsp Nicolas Vahé Salt, French Sea
½ tsp baking powder
Wood sorrel as garnish
Preparation
Soak the gelatine leaves in cold water.
Beat egg yolks, sugar and vanilla sugar until light and fluffy.
In another bowl, mix mascarpone and cream until the consistency resembles whipped cream.
Drain the gelatine and melt it in a small saucepan over low heat.
Add the gelatine to the egg and sugar and fold in some of the cream. Fold in the rest of the cream until you get a mousse.
Add the mousse to a piping bag and fill long ice cube trays almost to the top.
Add the jam to a small piping bag and squeeze it out in a line on top of the mousse in the ice cube trays.
Put it in the freezer for about 2-3 hours.
Bring water to boil and pour it over the oats in a bowl and let it soak for a few minutes.
In another bowl, mix butter and sugar and add flour mixed with salt and baking powder. Add the oats and mix the dough.
Gather the dough, add it to a bowl with a lid and put in the fridge for an hour.
Put the dough onto a tabletop sprinkled with flour and roll it.
With a cutter, make biscuits in the size you want.
Arrange the biscuits on a baking tray with baking paper and poke with a fork.
Bake in a preheated, fan-assisted oven at 180 °C for about 15 minutes.
Let them cool.
Take the mousse out of the freezer and add a piece to each biscuit, with the jam facing downwards.
Garnish with wood sorrel.
Fragilité cake with marzipan, almonds and mocha butter cream
Prep time 1.5 hours
Servings 20-25
Ingredients
Bottom:
500 g baking marzipan
800 g egg whites
500 g sugar
75 g almond flakes
Butter cream:
200 ml Nicolas Vahé Iced Coffee
4 glasses of Nicolas Vahé Sugar, Salt Caramel
2 tbsp vanilla sugar
2 pasteurised egg yolks
500 g soft butter
Powdered sugar
Preparation
In a bowl, knead marzipan while adding the egg yolks bit by bit.
Beat 500 g egg whites until stiff, and fold in sugar.
Fold the egg whites into the marzipan and place it on three baking trays with baking paper.
Smooth the dough and top evenly with almond flakes.
Bake in a pre-heated oven at 160 °C for about 15 minutes.
Bring coffee, sugar and vanilla to a boil until the sugar is dissolved and has a syrup-like consistency.
Let it cool completely.
Whip egg yolks and butter and add the cooled syrup bit by bit while you keep whisking.
Whisk until smooth and even.
Cut the bottoms in half, giving you six bottoms.
Divide the cream into five portions and make a layer cake of six bottoms and five layers of butter cream.
Put it in the fridge or freeze it before slicing it.
Garnish with powdered sugar.
Marzipan cookies with salt caramel and curd
Prep time 1 hour
Servings 30–40
Ingredients
Dough:
100 g powdered sugar
200 g butter
300 g wheat flour
1 tsp vanilla sugar
1 small egg
Filling:
2 glasses of Nicolas Vahé Sugar, Salt Caramel
50 ml egg whites
400 g almond and apricot baking paste
1 glass of Nicolas Vahé Curd, Pistachio
1 glass of Nicolas Vahé Curd, Lemon
100-150 g isomalt
Preparation
Knead all ingredients for the dough and put it in the fridge for about 30 minutes.
Mix half the egg whites with all the sugar. Add the baking paste and knead until even.
Add the rest of the egg whites until the consistency is right.
You should be able to get it out of a piping bag with a round nozzle.
Place the dough on the table, about 3 mm thick. Use a cutter to cut out cookies.
Place the cookies on a baking tray with baking paper. Using the piping bag, add a ring of the egg white and baking paste mix around the edge of each cookie.
Using a piping bag, add curd to the centre of each cookie. Half of the cookies with pistachio curd and the other half with lemon curd.
Bake in a pre-heated oven at 210 °C for 5-6 minutes.
Let them cool.
Melt isomalt in a saucepan. Dip the forks in the isomalt and create a sugar sail by waving the fork over a piece of baking paper, allowing thin strands to form. Pick small, nice-looking pieces and use as garnish on the cookies.
Jam, Red bell pepper, Rasberry & chilli, 240 g.
Sugar, Salt Caramel, 100 g.
Iced coffee, Cream Caramel, DK, 200 ml.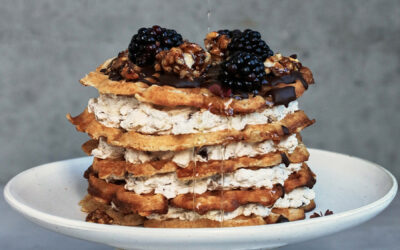 Makes: 1 cake for 6-8 people Prep time: 120 minutes Ingredients 1 bag of Nicolas Vahé Waffle & Pancake Mix 50 g melted butter 50 g Nicolas Vahé Olive Oil / Walnut 3 eggs 300 ml milk 125 g...
read more