Prep time 10 minutes
Ingredients
1 bottle Nicolas Vahé Vinegar / Mango
100 ml. plain vinegar
1 tsp. Nicolas Vahé spices / Fish
5 tbsp. Nicolas Vahé sugar / Lemon
1 tbsp. Nicolas Vahé Black Pepper Mix
4 red onions
1/4 cauliflower
1/4 romanesco
Preparation
Mix mango vinegar, plain vinegar, spices, sugar and pepper in a small pot and bring it to a boil until the sugar is dissolved. Cut cauliflower and romanesco into bite-sizes and onions into small slices. Mix vegetables with pickle and pour the entire mix into a jar. Let it cool and wait at least two hours before serving. Can be stored in fridge for up to three weeks.
SPICES, GINGER, GARLIC & CORIANDER, 1.94 OZ (55G)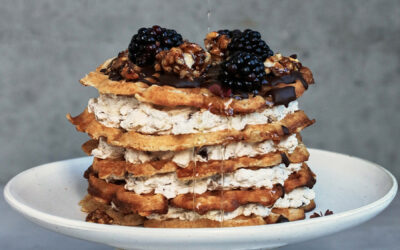 Makes: 1 cake for 6-8 people Prep time: 120 minutes Ingredients 1 bag of Nicolas Vahé Waffle & Pancake Mix 50 g melted butter 50 g Nicolas Vahé Olive Oil / Walnut 3 eggs 300 ml milk 125 g...
read more