Pita bread with steak, chili mayo and tomato relish
Prep time 30 minutes
Serves 2 people
Ingredients
2 pita breads (store-bought ones or ones baked using the Nicolas Vahé Bread Mix, Crusty Morning)
120 g veal steak
Salt/pepper
2 tbsp Nicolas Vahé Tomato Relish, Pickled vegetables
2 tbsp Nicolas Vahé Mayonnaise, Hot Chili
1 handful kale
2 soft-boiled eggs
2 tbsp pickled red onions
Preparation
Prepare the bread following the instructions on the packaging. Take into consideration the long prep time for the homemade version.
Fry the steak on a frying pan and add salt and pepper to taste.
Cut the steak into slices and make the pita breads with mayonnaise, tomato relish, kale, eggs and pickled onions.
Organic Breadmix, Crusty Morning, 600 g.
Tomato relish, pickled vegetables, 160 g.
Mayonnaise, Hot Chili, 135 g.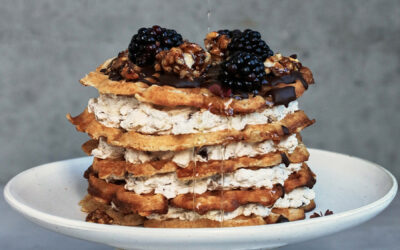 Makes: 1 cake for 6-8 people Prep time: 120 minutes Ingredients 1 bag of Nicolas Vahé Waffle & Pancake Mix 50 g melted butter 50 g Nicolas Vahé Olive Oil / Walnut 3 eggs 300 ml milk 125 g...
read more