Prep time
40 minutes
Serves
2 people
Ingredients
100 g Nicolas Vahé Pearled Emmer
100 g Nicolas Vahe Quinoa
100 g Nicolas Vahé Bulgur
2 tbsp Nicolas Vahé Mixed Olives
8 Nicolas Vahé Capers with stalks
2 tbsp Nicolas Vahé Onion Confit
1 small cucumber
1 red onion
200 ml Nicolas Vahé Vinegar, Cucumber
2 tbsp Nicolas Vahé Sugar, Lemon
2 tbsp Nicolas Vahé Smoked Almonds
2 tbsp chopped parsley
2 tbsp chopped chives
10 Vannamei prawns
2 tbsp Nicolas Vahé Marinade, Coconut & Mango
1 tbsp Nicolas Vahé Vinegar, Mango
Preparation
Boil the emmer, quinoa and bulgur as stated on the bags. Drain the water and let it cool.
Peel the cucumber and cut it lengthwise. Cut the onion in thin slices. Mix the vinegar cucumber with lemon sugar, pour it over the onion and cucumber and let it rest for 15 minutes.
Marinade the prawns in 1 tbsp marinade for 15 minutes and stir-fry.
Arrange all ingredients separately in a deep plate, make a dressing of 1 tbsp marinade and the mango vinegar, and pour it over.
Organic Pearled Emmer, 350 g.
Organic Quinoa Mix, 350 g.
Mixed Olives, in flavoured oil, 190 g.
Capers, with stalks, 200 g.
Confit, Onion & balsamic vinegar, 140 g.
Vinegar, Vinegar – Cucumber, 200 ml.
Nut Mix – Smoked Almonds, 75 g.
Marinade, Coconut & Mango, 200 g.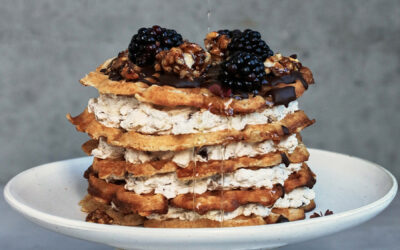 Makes: 1 cake for 6-8 people Prep time: 120 minutes Ingredients 1 bag of Nicolas Vahé Waffle & Pancake Mix 50 g melted butter 50 g Nicolas Vahé Olive Oil / Walnut 3 eggs 300 ml milk 125 g...
read more