Serving 4
4 chicken legs

3 cl. Olive oil with thyme

1 onion finely chopped

2 cloves of garlic finely chopped

12 cl. sherry vinegar

3 cl. tomato paste

25 cl. chicken broth

250 gr. mushrooms

1 peeled tomato cut into dice

10 cl. double cream 38%

1 tsp. chopped fresh tarragon

French Sea salt

Black pepper

Preparation

Lightly brown the onion and garlic in the remaining oil in the same pot over medium heat. Deglaze with the vinegar and reduce until almost dry. Add tomato paste and cook for 1 minute, stirring. Add chicken broth, mushrooms, tomato, and chicken. Bring to a boil.

Cover and cook over low heat for 50 minutes or until the meat pulls easily from the bone, bast- ing the chicken with the sauce halfway through cooking.

Remove the chicken pieces and set them aside on a plate. Using a small spoon, remove the fat from the surface of the sauce. Pour the cream. Bring to the boil and reduce until the sauce coats the back of a spoon. Adjust seasoning.

Place the chicken pieces into the sauce to reheat and coat with sauce. Garnish with fresh tarra- gon.

Serve immediately with mashed potatoes and a selection of green vegetables.
ORGANIC OLIVE OIL WITH THYME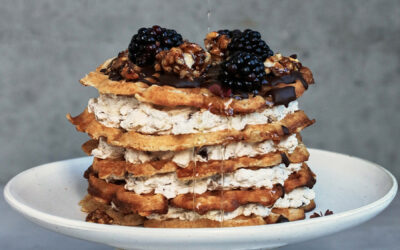 Makes: 1 cake for 6-8 people Prep time: 120 minutes Ingredients 1 bag of Nicolas Vahé Waffle & Pancake Mix 50 g melted butter 50 g Nicolas Vahé Olive Oil / Walnut 3 eggs 300 ml milk 125 g...
read more