Pulled pork wrap with chili mayo and pickled cucumbers
Prep time 60 minutes
Serves 2 people
Ingredients
200 g pork
4 tortillas
1 glass of Nicolas Vahé Salsa, Red Bell Pepper & Chorizo
Salt/pepper
2 tbsp Nicolas Vahé Mayonnaise, Hot Chili
1 small cucumber
2 tbsp Nicolas Vahé Vinegar, Cucumber
1 tbsp Nicolas Vahé Sugar, Lemon
1 handful fresh coriander
1 handful sprouts
Preparation
Put the pork into a frying bag with 1 glass of salsa and bake in the oven at 180°C for 60 minutes.
Mix vinegar with sugar and shake, cut the cucumber into thin, long slices and marinate them in the mix for about 20 minutes.
Fry the tortilla on a dry, hot pan.
Shred the meat and add it to the tortilla with the rest of the ingredients.
Salsa, Red Bell Pepper & Chorizo, 140 g.
Mayonnaise, Hot Chili, 135 g.
Vinegar, Cucumber, 200 ml.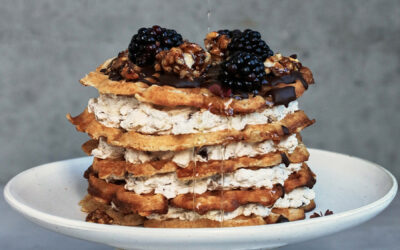 Makes: 1 cake for 6-8 people Prep time: 120 minutes Ingredients 1 bag of Nicolas Vahé Waffle & Pancake Mix 50 g melted butter 50 g Nicolas Vahé Olive Oil / Walnut 3 eggs 300 ml milk 125 g...
read more