Serves: 4 people
Time: 30-40 minutes, 20 minutes to bake
Ingredients
1 cauliflower
3 tbsp olive oil
1-2 tsp Nicolas Vahé Salt / Fennel
1 glass of Nicolas Vahé Pesto / Vegan
Preparation
Preheat the oven to 200°C.
Rinse the cauliflower and cut it into about 1.5 cm thick slices.
Place them to a baking sheet with baking paper, add oil and sprinkle with salt.
Bake for 20 minutes until golden.
Top with pesto and garnish with fresh herbs.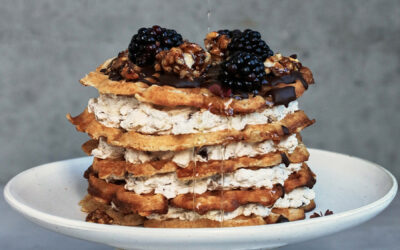 Makes: 1 cake for 6-8 people Prep time: 120 minutes Ingredients 1 bag of Nicolas Vahé Waffle & Pancake Mix 50 g melted butter 50 g Nicolas Vahé Olive Oil / Walnut 3 eggs 300 ml milk 125 g...
read more