Rye maccheroni with salmon & quinoa lasagna
Rye maccheroni salad with lemon & basil pesto, lemon oil, greens, cherry tomatoes and herbs. Served with cold smoked or hot-smoked salmon, chilled and creamy langoustine dressing and fennel pesto.
Quinoa lasagna with squash and aubergine, spicy tomato sauce or meat sauce, and creamy bechamel sauce.
Homemade bread.
Rye maccheroni with salmon and langoustine dressing
Prep time 30 minutes
Serves 4 people
Ingredients
200 g crème fraiche 38%
50 ml Nicolas Vahé Langoustine Soup
½ a bag of Nicolas Vahé Maccheroni
4 green, sliced asparagus
4 purple asparagus in thin slices
2 finely chopped spring onions
10-12 mixed cherry tomatoes in halves
2 tbsp Nicolas Vahé Pesto, Dill & Fennel
2-3 tbsp Nicolas Vahé Olive Oil, Lemon
Nicolas Vahé Salt & Pepper, Everyday Mix
1 handful fresh herbs / parsley, dill and chives
8 slices of cold smoked salmon
Preparation
Whip the creme fraiche until creamy and thick.
Add the langoustine soup and whip until fluffy.
Boil the macaroni as stated on the bag.
Drain and let it cool.
Mix maccheroni, asparagus, spring onions, tomatoes, pesto and olive oil.
Add salt and pepper to taste.
Place the salmon on a plate and top with the pasta.
Garnish with the langoustine dressing and top with fresh herbs.
Quinoa lasagna
Prep time 60 minutes
Serves 6-8 people
Ingredients
100 ml Nicolas Vahé Quinoa
2 tbsp olive oil
2 coarsely chopped onions
2 finely chopped cloves of garlic
500 g ground beef
2 grated carrots
1 small can of tomato purée
1 glass of Nicolas Vahé Tapenade, Sundried Tomatoes
2 tbsp Nicolas Vahé Ketchup
1 tbsp Nicolas Vahé Balsamico Vinegar
2 tbsp Nicolas Vahé Spices, Pizza
1 glass of Nicolas Vahé Tomato Sauce, Olive & Capers
1 can of chopped tomatoes
½ thinly sliced aubergine
½ thinly sliced squash
500 ml bechamel sauce
140 g grated mozzarella
8 handfuls of crispy salad
Nicolas Vahé Salt, Black Sea Salt
Preparation
Prepare the quinoa as written on the bag.
Heat olive oil in a saucepan and fry onions and garlic for a few minutes.
Add the ground beef and let it brown.
Add grated carrot, tomato purée, tapenade, ketchup, balsamic vinegar and spices. Stir and let it simmer for a few minutes. Add tomato sauce and chopped tomatoes and let it simmer for a few more minutes.
Add salt and pepper to taste.
In an ovenproof dish, add a layer of sauce and top with a thin layer of quinoa.
Now add a layer of bechamel sauce and a layer of half aubergine and half squash slices.
Repeat twice. Top with grated mozzarella.
Bake in the oven at 180 °C for about 20-30 minutes.
Serve in small Nicolas Vahé bowls and garnish with crispy salad and black salt.
Homemade bread
Prep time 3-4 hours
Serves 25-50 people
Ingredients
1L cold water
25 g yeast
1 bag of Nicolas Vahé Bread Mix, Crusty Morning
600 g Manitoba wheat flour
2 tbsp honey
30 g fine salt
Preparation
In a mixer, dissolve yeast in water.
Add the bread mix, flour and honey. Knead at medium speed for about 10 minutes.
Add salt and knead at maximum speed for a few minutes until the yeast releases from the bowl.
Let the dough raise at room temperature until it doubles in size or let it raise in the fridge overnight.
Pre-heat the oven to 230 °C.
Form 25-50 buns and bake for 12-15 minutes.
If you like, give the bread two bursts of steam in the beginning, and lower the temperature to 200 °C after a few minutes.
Leave to cool.
Lobster flavored soup, 500 ml.
Maccheroni with rye, 250 g.
Pesto, Dill & Fennel, 135 g.
Salt and pepper, Everyday Mix, 310 g.
Organic Quinoa Mix, 350 g.
Tapenade, Sundried Tomatoes, 135 g.
Ketchup, San Marzano Tomatoes, 500 ml.
Aceto Balsamico di Modena, PGI, 8.5 fl.oz/ 250 ml.
Spices, Oregano, basil & marjoram, 0.5 oz. (13 g)
Tomato Sauce – Olives & Capers, 330 ml
Organic Breadmix, Crusty Morning, 600 g.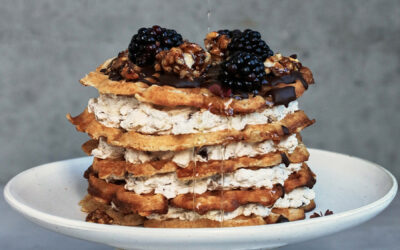 Makes: 1 cake for 6-8 people Prep time: 120 minutes Ingredients 1 bag of Nicolas Vahé Waffle & Pancake Mix 50 g melted butter 50 g Nicolas Vahé Olive Oil / Walnut 3 eggs 300 ml milk 125 g...
read more