Salmon with cream cheese and wild garlic
Prep time 5 minutes
Serves 4 people

Ingredients
100 g cream cheese
4 slices of cold smoked salmon
Nicolas Vahé Salt, Wild Garlic
Fresh thyme

Preparation
Whip the cream cheese until light and creamy. Divide the salmon into smaller pieces and arrange on a spoon.
Top with the cream cheese, add the wild garlic salt and garnish with fresh thyme.
Salt, wild garlic, 215 g.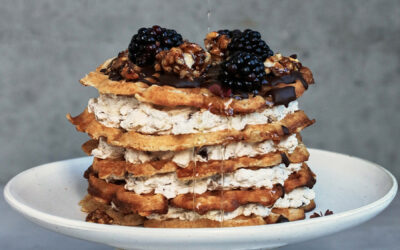 Makes: 1 cake for 6-8 people Prep time: 120 minutes Ingredients 1 bag of Nicolas Vahé Waffle & Pancake Mix 50 g melted butter 50 g Nicolas Vahé Olive Oil / Walnut 3 eggs 300 ml milk 125 g...
read more