Prep time 5 minutes
Serves 2 people
Ingredients
1 egg
75 g butter, melted
25 g sugar
1 tbsp Nicolas Vahé Syrup, Caramel
100 ml milk
125 g flour
½ tsp baking powder
60 g brie
A sprig of fresh thyme
45 g Nicolas Vahé Smoked Almonds, chopped
20 ml Nicolas Vahé Syrup, Caramel
Preparation
Sweet nuts
Briefly roast the nuts on a pan and mix with syrup.
Waffles
In a bowl, mix egg, butter, sugar, syrup, milk, flour and baking powder with a hand mixer.
Pour the batter onto a hot waffle iron and bake until crispy and golden.
Serve the hot waffles topped with brie, sweet nuts and fresh thyme.
Nut Mix – Smoked Almonds, 75 g.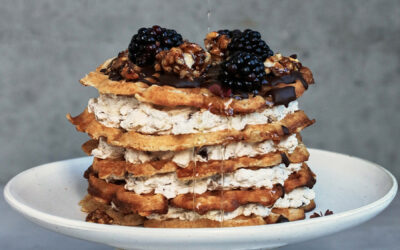 Makes: 1 cake for 6-8 people Prep time: 120 minutes Ingredients 1 bag of Nicolas Vahé Waffle & Pancake Mix 50 g melted butter 50 g Nicolas Vahé Olive Oil / Walnut 3 eggs 300 ml milk 125 g...
read more