Snackwich with mixed seeds, cod and edamame spread
Prep time
30 minutes
Serves
2 people
Ingredients
200 g cod
1 tbsp wheat flour
1 egg
200 ml Nicolas Vahé Salad Topping, Mixed Seeds
Salt/pepper
300 ml neutral oil
2 slices of sandwich bread
50 g edamame beans without pods
1 tbsp Nicolas Vahé Confit, Onion & Balsamic Vinegar
½ tbsp Nicolas Vahé Olive Oil, Lemon
1 tbsp freshly squeezed lemon juice
20 g Puck feta cheese
1 tbsp Nicolas Vahé Mayo, Garlic
1 handful fresh lamb's lettuce
2 fresh radishes
½ fresh lime
Preparation
Coat the cod in wheat flour, beaten egg and salad topping. Add salt and pepper.
Heat the oil to 180°C and fry the cod for about 3 minutes until crisp.
Mix edamame, onion confit, lemon olive oil, lemon juice and feta, and blend it.
Toast the slices of bread and add the edamame spread to one and mayo to the other.
Cut the radishes into long, thin slices and arrange the sandwich with lamb's lettuce and fried cod.
Cut the sandwich in two.
Salad Topping, Mixed Seeds, 170 g.
Confit, Onion & balsamic vinegar, 140 g.
Mayonnaise, Garlic, 135 g.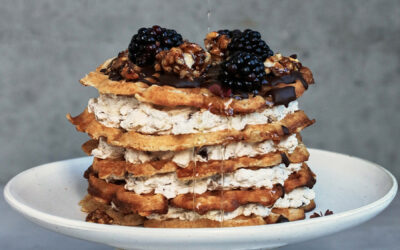 Makes: 1 cake for 6-8 people Prep time: 120 minutes Ingredients 1 bag of Nicolas Vahé Waffle & Pancake Mix 50 g melted butter 50 g Nicolas Vahé Olive Oil / Walnut 3 eggs 300 ml milk 125 g...
read more