Spareribs with a salad of broccoli and cauliflower crudité
Serves 2 people
Prep time 2.5 hours
Ingredients
700 g spare ribs
1 ½ dl BBQ sauce – smoked chipotle
1 tbsp French sea salt
½ broccoli
¼ cauliflower
8 caper berries
2 tbsp oil – lemon
Salt & pepper
Preparation
Rinse the broccoli and cauliflower and cut them into thin slices on a mandoline slicer. Put the slices in a container filled with cold water and put it in the fridge for 15 minutes. Drain the water and mix with oil, salt, pepper and caper berries.
Prepare the spare ribs. Remove the membrane if needed. Spread BBQ sauce on the ribs and let them sit for a few hours. Grill them over indirect heat.
Barbecue Sauce, Smoked Chipotle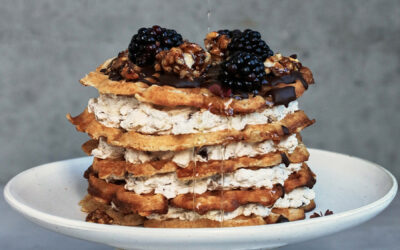 Makes: 1 cake for 6-8 people Prep time: 120 minutes Ingredients 1 bag of Nicolas Vahé Waffle & Pancake Mix 50 g melted butter 50 g Nicolas Vahé Olive Oil / Walnut 3 eggs 300 ml milk 125 g...
read more