Spicy mango soup with avocado and quinoa
Prep time
25 minutes
Serves
2-4 people
Ingredients
2 avocados
1 bottle of Nicolas Vahé Gourmet Sauce, Spicy Mango
250 ml cream
50 g Nicolas Vahé Organic Quinoa Mix
1 tbsp Nicolas Vahé Olive Oil, Chili
Preparation
Boil the quinoa as stated on the packaging.
Mix the mango sauce with cream and bring it to boiling temperature.
Arrange in a soup bowl with avocado and quinoa.
Gourmet Sauce, Spicy Mango, 250 ml
Organic Quinoa Mix, 350 g.
Olive oil, Chilli, 25 cl.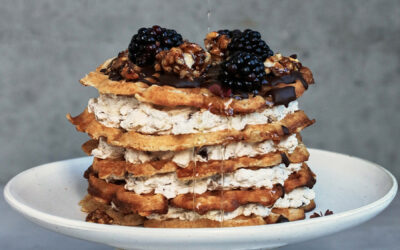 Makes: 1 cake for 6-8 people Prep time: 120 minutes Ingredients 1 bag of Nicolas Vahé Waffle & Pancake Mix 50 g melted butter 50 g Nicolas Vahé Olive Oil / Walnut 3 eggs 300 ml milk 125 g...
read more