Sticky spareribs Texas style
Serves 2 people
Cooks in 15 hous
Difficulty Medium
Ingredients
2 racks of pork loin back ribs
1 jar Nicolas Vahé Rub / Smokey Texas
100 g butter
100 ml apple juice, e.g. mixed with a little apple vinegar
2 jar Nicolas Vahé BBQ Sauce / Smoked chipotle
Preparation
Start by removing the membrane from the back of each rack of pork loin. To do so, cut loose a corner of the membrane with a sharp knife and rip the membrane off using a sheet of paper towel. Press any excess blood through the back of the rack and wipe it off. Rub the ribs with Nicolas Vahé rub. Cover with cling film and leave to marinate in the fridge overnight.
Setting up the grill
Remove the ribs from the fridge approx. 4 hours before serving. Fire up the grill using ½ grill starter. Place the charcoal so that the grill is set up for indirect cooking. Add wood chips to the charcoals if you like – to add a hint of smoke to the meat.
Cooking
Place the ribs in the centre of the cooking grate, and grill them for 1 hour under lid. You can add a little extra wood chips if you like. Then grill the ribs for 2 hours under lid without smoke. Spray or brush the ribs with apple juice regularly.
Remove the ribs from the grill, and wrap each rack in tinfoil with a few dollops of butter. Leave to rest until 15 minutes before serving. Brush each side with an ample amount of Nicolas Vahé BBQ Sauce, and grill for approx. 15 minutes.
If you want your ribs to be extra sticky, brush them with extra Nicolas Vahé BBQ Sauce 5 minutes before serving.
Dry Rub, Smoked Barbecue Mix
Barbecue Sauce, Smoked Chipotle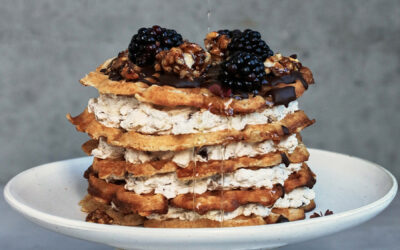 Makes: 1 cake for 6-8 people Prep time: 120 minutes Ingredients 1 bag of Nicolas Vahé Waffle & Pancake Mix 50 g melted butter 50 g Nicolas Vahé Olive Oil / Walnut 3 eggs 300 ml milk 125 g...
read more