Tagliatelline with mushrooms
Serves: 4 people
Prep time: 45 minutes
Ingredients
100 ml pumpkin seeds
1 tsp olive oil
1 tsp soya
1 pack of Nicolas Vahé Tagliatelline / Mushroom
200 g mushroom mix
A couple of fresh sage leaves, finely chopped
1 burrata or fresh mozzarella
Some juice and zest of an organic lemon
Nicolas Vahé Salt / The secret blend
Nicolas Vahé Pepper / The mixed blend
Preparation
Add olive oil, soya and pumpkins seeds to a hot frying pan. Stir until the seeds have absorbed the liquid and are crisp.
Let the seeds cool off on a baking sheet with baking paper.
Cook the tagliatelline as stated on the packaging and drain.
Fry the mushrooms and the sage on a very hot frying pan with a bit of oil for a few minutes.
Turn down the temperature and add the tagliatelline.
Arrange on a serving board and top with burrato or mozzarella, lemon zest and juice, salt and pepper.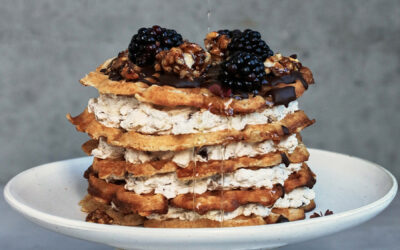 Makes: 1 cake for 6-8 people Prep time: 120 minutes Ingredients 1 bag of Nicolas Vahé Waffle & Pancake Mix 50 g melted butter 50 g Nicolas Vahé Olive Oil / Walnut 3 eggs 300 ml milk 125 g...
read more