The perfect bread for sharing
Prep time 1 hour + 5-24 hours to rise 
Makes 12 pcs.
Ingredients
600 ml cold water
10-12 g yeast
10 g salt
1 dl of oil 
600 g Nicolas Vahé Dark bread mix / rustic dawn
Preparation
Dissolve the yeast in cold water. Add salt and bread mix. Knead the mixture in a mixer until the dough starts to come away cleanly from the sides of the bowl. The dough is meant to be glossy and elastic. This should take approximately 10 minutes depending on the power of your food mixer.
Rub a little bit of oil on the bottom of the bowl where you want your dough to rise. Allow the bread to rise in a cool environment for somewhere between 5-24 hours.
Pour 1 dl of oil onto the table followed by the dough. The oil makes the dough easier to work with and ensures that it will not stick to your fingers.
Cut the dough into smaller rolls. Place them in a circle on a baking sheet with baking paper, as seen in the picture, and let the rolls rise for at least 30 minutes. 
Bake at 240C for 10-25 minutes – depending on whether you are making loaves or small buns. The breads may get dark but keep an eye on them to ensure that they will not turn black.
Serving
Serve your bread on a large cutting board – in this way, you can all take a piece of bread while sitting around the table. Place some of your favourite dips on the table and taste a bit of everything while the conversation about everything under the sun continues.
Psst… at Nicolas Vahé we have 3 different bread mixes. Choose your favourite bread mix as your bread for sharing.
Organic Breadmix, Rustic Dawn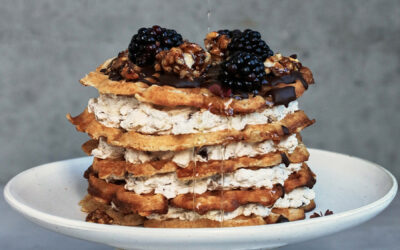 Makes: 1 cake for 6-8 people Prep time: 120 minutes Ingredients 1 bag of Nicolas Vahé Waffle & Pancake Mix 50 g melted butter 50 g Nicolas Vahé Olive Oil / Walnut 3 eggs 300 ml milk 125 g...
read more