The ultimate gourmet burger with truffle oil, brie, bacon and egg
Serves 2 people
Prep time 45 minutes (do not forget to let the bread dough rise overnight before you start)
Ingredients
400 g minced beef
1 tsp truffle oil
50 g French brie cheese 60%
2 eggs
150 g bacon
2 tbsp relish
2 tbsp tarragon mayo
Lamb's lettuce
2 shallots
1 tbsp flour
3 dl neutral oil
1 bag of bread mix – Crusty Morning
200 g butter
Salt and pepper
Preparation
Cut the butter into lumps and add the dough. Prepare the dough as stated on the package. Form the dough into burger buns.
Add truffle oil to the minced meat and stir. Season with salt and pepper.
Heat the oil to 180°C.
Slice the shallots, dip them in flour and fry in oil until crunchy.
Cut the bacon into thin slices and fry in oil.
Grill the burgers on medium heat and let them rest for 5 minutes. Put brie cheese on the burgers and melt with a burner.
Fry the eggs.
Now put your gourmet burger together. Add relish to the bottom half, and continue with lamb's lettuce, burger with brie, fried egg, bacon, and fried shallots. Finish off with tarragon mayo.
Virgin olive oil with white truffle
Organic Breadmix, Crusty Morning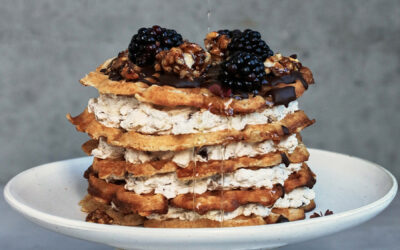 Makes: 1 cake for 6-8 people Prep time: 120 minutes Ingredients 1 bag of Nicolas Vahé Waffle & Pancake Mix 50 g melted butter 50 g Nicolas Vahé Olive Oil / Walnut 3 eggs 300 ml milk 125 g...
read more