3 tbsp. olive oil with thyme

1 tbsp. of mustard

1 tbsp. sherry vinegar

1 sprig of fresh thyme

French Sea salt

Black pepper

Preparation

In a bowl, mix mustard, olive oil with thyme and shery vinegar
Add French sea salt and freshly ground black pepper. Mix well and add the sprig of thyme.

Cover your bowl with cling film and place this vinaigrette in the fridge for 30 minutes. When ready to serve, remove the sprig of thyme.

Note: This vinaigrette is perfect for mixed salads, fish tartars and raw seafood.
ORGANIC OLIVE OIL WITH THYME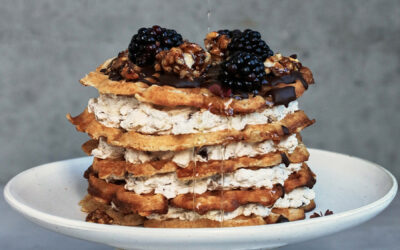 Makes: 1 cake for 6-8 people Prep time: 120 minutes Ingredients 1 bag of Nicolas Vahé Waffle & Pancake Mix 50 g melted butter 50 g Nicolas Vahé Olive Oil / Walnut 3 eggs 300 ml milk 125 g...
read more