Warm sweet potato salad with green lentils
Serves 4 people
Prep time 1 hour
Difficulty Medium
Ingredients
1 kg sweet potatoes
2 tbsp Nicolas Vahé Olive oil
200 g feta cheese
1 tbsp Nicolas Vahé Spices / vegetables
1 tsp Nicolas Vahé Salt / french sea salt
200 g green lentils
200 g kale, finely chopped
50 ml Nicolas Vahé Dressing / basil
1 handful blackberry
1 handful broad-leaved parsley, roughly chopped
½ jar Nicolas Vahé Nuts / smoked almonds, roughly chopped
Preparation
Scrub the sweet potatoes and cut them into chunks. Boil them in salted water for 15 minutes, or until the potatoes are tender. Drain well and leave to cool.
Preheat the oven to 200 C., without fan.
On a baking tray lined with baking paper, crush the sweet potatoes with a fork, leaving them chunky. Brush the crushed potatoes with olive oil and top with crumbled feta cheese. Sprinkle with spices for vegetables and salt. Roast the potatoes in the oven for 20 minutes, or until golden and crisp.
Boil the green lentils following the instructions on the pack. Drain well and leave to cool.
In a large bowl, toss green lentils, kale and salad dressing. Top the salad with the roasted potatoes, feta cheese, blackberry, parsley and smoked almonds.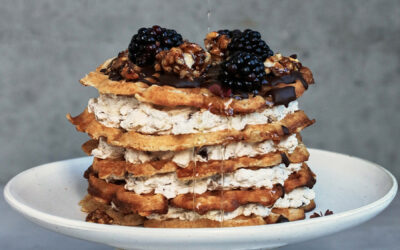 Makes: 1 cake for 6-8 people Prep time: 120 minutes Ingredients 1 bag of Nicolas Vahé Waffle & Pancake Mix 50 g melted butter 50 g Nicolas Vahé Olive Oil / Walnut 3 eggs 300 ml milk 125 g...
read more