White asparagus with Hollandaise sauce and black salt
Prep time
25 minutes
Serves
4 people
Ingredients
12 white asparagus
3 egg yolks
3 tbsp white wine vinegar
1 pinch of regular salt
2 tbsp lemon juice
250 g butter
Nicolas Vahé Salt, Black
Watercress
Preparation
Peel the asparagus starting from the top and pinch off the tough ends.
Boil in lightly salted water for 7-8 minutes.
With a hand blender, mix egg yolks, white wine vinegar, salt and lemon juice until light and fluffy.
Melt the butter, skim the whey (the white foam on top) and add the butter to the egg yolk mix. Make sure the temperature stays below 70 degrees as the sauce might separate.
Arrange the asparagus on a plate, add the sauce and finish with the black salt.
Garnish with watercress.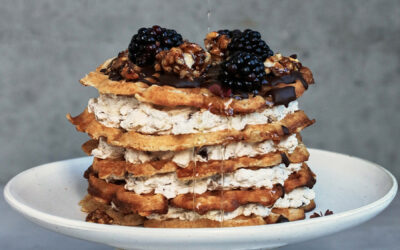 Makes: 1 cake for 6-8 people Prep time: 120 minutes Ingredients 1 bag of Nicolas Vahé Waffle & Pancake Mix 50 g melted butter 50 g Nicolas Vahé Olive Oil / Walnut 3 eggs 300 ml milk 125 g...
read more