White nougat or burnt almond date balls
Serves 25-30 pcs.
Prep time 20 min.
Ingredients
300 g dates (with pits)
1 pack of Nicolas Vahé Dark Chocolate Licorice & Chili
30 g rolled oats
2 tbsp cocoa powder
1 tsp vanilla sugar
A pinch of salt
1 glass of Nicolas Vahé Smoked Almonds or 1 large handful of Nicolas Vahé White Nougat, crushed or finely chopped (shredded coconut can also be used)
Preparation
Pit the dates and add them to a mixer along with chopped chocolate, oats, coconut and vanilla sugar.
Blend until even and roll into balls.
Coat them in either smoked almonds or white nougat.
Store in a fridge.
DARK CHOCOLATE, LICORICE & CHILI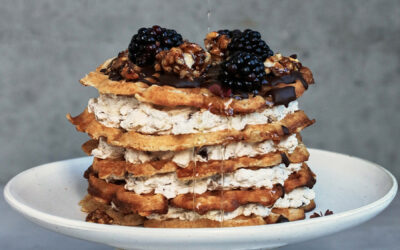 Makes: 1 cake for 6-8 people Prep time: 120 minutes Ingredients 1 bag of Nicolas Vahé Waffle & Pancake Mix 50 g melted butter 50 g Nicolas Vahé Olive Oil / Walnut 3 eggs 300 ml milk 125 g...
read more