Small dishes for the tapas table
A classic tapas table consists of many small dishes – it is perfect for casual and cosy gatherings. Here at Nicolas Vahé, we have lots of delicacies you can place directly on the table or make small, tasty tapas dishes in advance. Get inspired by some of our easy dishes that are made with just a few ingredients.
Tasty snack with melon and ham
Ingredients:
1 melon, e.g. cantaloupe 
70 g parma or serrano ham
150 g fresh mozzarella balls
20 basil leaves 
Nicolas Vahé bamboo skewers
Nicolas Vahé Glaze / forest berries 
Preparation: 
Start by cutting small balls of melon using a melon baller. If you don't have a melon baller, cut the melon into small cubes.
Put a melon ball, some ham, a ball of mozzarella and a basil leaf on each bamboo skewer. Arrange the skewers on a stylish tapas board and drizzle over some Nicolas Vahé glaze.
Tomato salad with mozzarella and glaze
Ingredients:
2 beef tomatoes
1 mozzarella
Fresh basil leaves 
Nicolas Vahé Salt / lemon & thyme 
Nicolas Vahé Glaze / forest fruit
Nicolas Vahé bamboo serving bowls 
Preparation: 
Rinse the tomatoes. Thinly slice the tomatoes and the mozzarella. Arrange the slices in turn in small Nicolas Vahé bamboo serving bowls. Sprinkle over fresh basil leaves and some Nicolas Vahé salt. Drizzle the salad with glaze.
Gnocchetti with a Moroccan twist
Ingredients:
Nicolas Vahé Gnocchetti
1 jar Nicolas Vahé Marinade / tomato & spices
1 bunch coriander, chopped 
Preparation: 
Cook the Nicolas Vahé gnocchetti according to the cooking instructions on the bag. Rinse the pasta under running cold water and drain. Mix the pasta with the marinade. Add 1 tbsp into small glasses or Nicolas Vahé bamboo serving bowls. Sprinkle with fresh coriander and serve.
Freshly baked bread with Nicolas Vahé topping
Ingredients:
1 Nicolas Vahé Bread mix, any of the 3 mixes can be used
Nicolas Vahé Toppings, e.g. spread, jam, bruschetta or pesto.
Preparation: 
Small tastings give your costumers a memorable experience in your store.
Bake approximately 10 buns using a Nicolas Vahé bread mix. Cut the buns into small pieces and serve with a delicious selection of Nicolas Vahé toppings.
Classic Tiramisu with a hint of rum
Ingredients:
200 g ladyfingers
Nicolas Vahé Espresso / Irish rum aroma
Mascarpone cream
Cocoa powder
500 g mascarpone (cream cheese)
100 g sugar
2 egg yolks, pasteurised
2 egg whites, pasteurised
Preparation: 
Mix mascarpone, sugar and egg yolks. Whisk egg whites until stiff and carefully fold into the mascarpone cream. Transfer the mixture into a piping bag. This will make it easier to assemble the tiramisu. Dip ladyfingers in Nicolas Vahé Espresso for iced coffee.
Place a layer of softened ladyfingers at the bottom of small glasses and add a layer of mascarpone cream. Repeat the process. Before serving, dust a layer of cocoa powder over the dessert.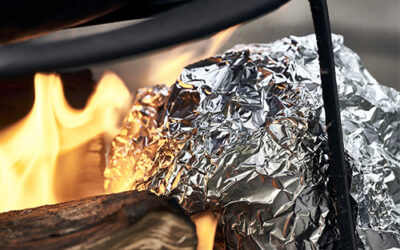 Let the delicious aroma of your cooking spread across the garden as the smoke rises from an open fire. Outdoor cooking is the perfect way to enjoy the outdoors with friends and family. Especially in...
read more