After what seems like years of lockdown, the world is finally opening up again and it is time to be social once more. With our new range of miniature tableware, you can make that social gathering even more special.
A year of limited human contact has made the prospect of having friends over for dinner more enticing than ever. And if it has been a while since you and your friends have spent time together, then why not make that reunion dinner something to remember?
With the broad range of Presentation products, we aim to give you the tools to create that stunning dinner for you and your friends. Maybe start off with an appetiser served in the mini bucket, while you catch up on last year's events. With its elegant and sturdy look, the Presentation buckets make even the simplest of dishes look presentable.
Cooking can be messy but with the Presentation line you do not need to be concerned, they are made to survive whatever you throw at them. Do not worry though, that sturdiness has not come at the cost of the looks. Made from stainless steel and with brass handles, the pans, buckets, pots, and roasting dishes are meant to last and meant to look the part. This ensures ease of use and a match between your cooking and how it is presented on the table. Promising not only great flavours, but also the right atmosphere.
The main course is in the oven and the smell of your delicious meal makes everyone around the table hungry. Time to eat. Luckily your guests do not have to wait for long, as the Presentation-products from Nicholas Vahé are made to be functional in the oven and presentable on the dinner table. Just place the roasting dish and pan on the table and carry on the conversation. Here shown with our Daily cutlery set that, with its classic look, perfectly matches the Presentation products. The Daily set also contains a cake server, pasta spoon, soup ladle, and so much more. In short, everything you need to accompany your dinner and the Presentation products.
Whether your cooking is complex or simple, the Presentation products are here to help elevate it to the next level. With products ranging from pots and pans to roasting dishes, this new line from Nicholas Vahé ensures that you have the right tools for every get-together, whether it is a celebration of the world going back to normal or a dinner with a loved one.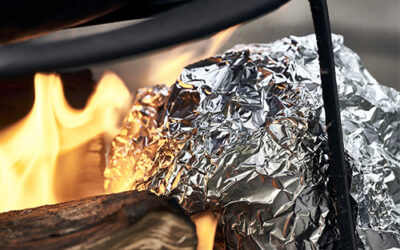 Let the delicious aroma of your cooking spread across the garden as the smoke rises from an open fire. Outdoor cooking is the perfect way to enjoy the outdoors with friends and family. Especially in...
read more